Do you have a friend or loved one that loves hiking? Then this ultimate list of the best gifts for hikers is exactly what you need if you want thoughtful hiking gifts & ideas that are sure to show how much you care about them.
I can say with confidence that hikers are (often) cut from different cloth—which makes gifts for hikers quite tricky come holidays and birthdays. One reason that gifting presents a unique challenge for hikers, is that we tend to be pretty minimalistic by virtue of loving being with the outdoors so much.
Add to that, the rugged nature of the terrain many of us spend our hobby time in, the equipment we need has to be pretty durable. Of course, this sometimes means spending a little more money to get high-quality hiking gifts—but that doesn't mean you'll have to break the bank.
I've curated this list of hiker gift ideas to help you pick the absolute best gifts for your hiker, based on budget, use-case, and more. There are sections specifically for:
So, without further ado, let's get right into our compilation of all the most relevant, thoughtful and creative gifts for hikers this year.
24 Best Gifts for Hikers (Thoughtful Hiking Gifts & Ideas)
Disclosure: Please note that some of the links below are affiliate links and at no additional cost to you, I may earn a commission. Know that I only recommend hiking gear I personally stand behind. When you use one of my affiliate links, it helps me run this blog and keep all of this content free of charge for readers (like you).
---
Best Hiking Gifts for Beginner Hikers
If the person you're gift-shopping for is just starting out, they probably need to build up their collection of hiking gear. Here are a few ideas for hiking gifts for someone at this stage:
A clean supply of water is always at the top of every hiker's prep checklist, whether you're on a day hike in Yosemite or trekking through Patagonia for a week. That's why a water bottle makes for the perfect gift for hikers of all stripes. But because your hiking buddy needs lightweight and durable equipment, you can't just get them any ordinary water bottle.
The Hydrapak Flux Bottle is one of the best on the market today. This fantastic water bottle comes with many cool features that include:
Water filter compatibility
Leakproof
100% BPA & PVC Free
Fully collapsible
The water bottle weighs 3.4 ounces and easily folds into the flexible bail handle once empty.
A portable first aid kit is another list topper when a hiker prepares to go and enjoy the great outdoors.
One of the best first aid kits for hikers is the Portable Day Hike First-Aid Kit from Surviveware. This is a compact, lightweight kit designed for two people. One of the biggest advantages of this first aid kit is that it has built-in loops that make it easy to strap the kit to your backpack, put back unused items and restock over time (making it one of the longer-lasting hiking gifts on this list). Other great features of this kit include:
Clearly labeled single-dose medications
Quick guide to help first-time users
Thick absorbent gauze products
Water resistant outer material that stays dry
This is definitely a gift your favorite hiker will appreciate, as it shows your concern for their well-being on the trail.
Want to show the extent of your love by splurging on one of our nicer beginner gifts for hikers? Then look no further than the Garmin inReach Mini 2—a satellite powered hiking GPS device featuring global SOS notification capability, messaging, GPS location sharing and more. 
Powered by the pros at Garmin, this is a satellite communication device that could mean the difference between life and death in extreme situations or in the event of an accident on the trail. The device can send location information, send out SOS signals, or even send and receive text messages. All this without needing any cellular coverage.
Another great feature of the Garmin inReach Mini 2 is that you can use it to track and share your journey online. This enables your family, friends, or followers to accompany you on your hikes—from the comfort of their couches, making this one of the more thoughtful gifts for hikers here on this shopping guide.
Looking for a perfect gift for hikers that'll keep on giving? Then America the Beautiful Pass might just be the best gift you can get your loved one that enjoys visiting US National Parks.
At just $79.99, this all-access annual pass that grants the holder entry into any site around the US managed by:
National Park Service
Forest Service
Fish and Wildlife Service
Bureau of Land Management
Bureau of Reclamation
Army Corps of Engineers
That's over 21,000 miles of trails for your favorite hiker to explore! Now that's a hiking gift any outdoor lover will appreciate, especially since it more than pays for itself with just a few visits to the park of their choice. That's money well spent.
Despite being out in the wild, cleanliness is still important. That's why Combat Wipes are another one of the best hiking gifts you should consider adding to your list.
Combat Wipes are military-grade, extra thick, and yet lightweight wipes that can help you clean up easily and effectively. The best part is that they're 100% biodegradable, making them safe for Mother Nature. Also, combat wipes come in two scents—one for him and one for her. This makes them a great gifting idea for any hiker that likes to stay fresh out on the trail.
Best Budget Gifts for Hikers Under $50
Shopping on a budget for that favorite hiker? Fear not, here are all my top budget gifts for hikers under $50. And just because these budget-friendly hiking gift ideas won't break the bank, doesn't mean they can't be thoughtful & meaningful when it comes from the heart.
Ask any hiker, and they'll tell you there's no such thing as having too many beanies. That's because beanies are an essential part of hiking gear that'll keep you warm on a cold morning before the sun rises.  And they'll definitely love the Smartwool Merino beanies available on Amazon & at stores like REI.
Not only does this beanie keep you warm, but it's also super easy to clean when it gets dirty. That's all thanks to the Smartwool merino wool. With different designs and colors available, your favorite hiker will look stylish as they enjoy their time in the great outdoors.
If a warm beanie isn't the hiking gift for your special outdoor enthusiast, you can get them a very cool dad cap-style hat ($19) to look great on the trail—or even a wide-brimmed sun hat ($30) for bright summer hikes. Here are a couple of my favorite hat-themed gifts for hikers: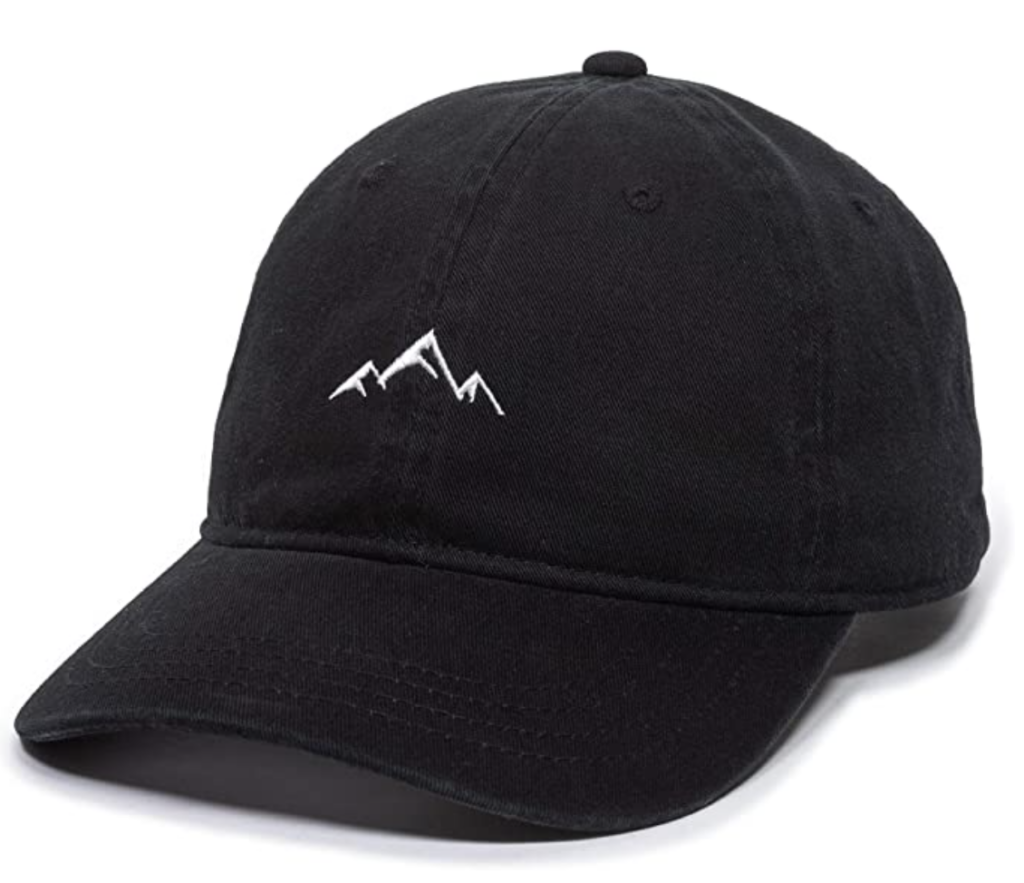 Sticking with the fashion theme, let's talk about fanny packs (including great waist packs for men) 😂
A waist pack, AKA, a fanny pack is another fantastic gift you can get for a hiker, particularly for day hikers who don't need to carry lots of stuff.
Designed to be lightweight and yet rugged enough for any trail, the hiking waist packs (or fanny packs, if you will) are a gift any hiker would appreciate. That's because a waist pack offers hikers more storage options for those miscellaneous items hikers need on the trail. With this as one of your hiking gifts, they'll be able to stash things like earbuds, chapstick, snacks, sunscreen, phone, tissues and more.
A portable power bank (reserve battery) is a great accessory for avid hikers, especially those who love long-distance hikes—or like me, filming the journey to document here on my blog.
Hikers who love listening to podcasts, audiobooks or use their phone for navigation know the value of having a reliable yet compact power bank. And in this category, it doesn't get any better than the Anker PowerCore Slim 10000mAh power bank. This power bank is compatible with most devices that charge via USB type-C chargers. Its compact and slim form factor also makes it easy to carry, and thus one of the best gifts for hikers, in my opinion—though a close backup would naturally be one of the best hiking books that every hiker should read.
Hiking can be taxing on the feet, especially as your favorite hiker racks up the mileage. That's why hikers need tough and comfortable socks. Socks like the ones Darn Tough Socks are some of my favorite.
Made from Merino wool, these hiking socks offer the perfect combination of warmth, comfort, and durability. And the cherry on top—they all cost less than $30.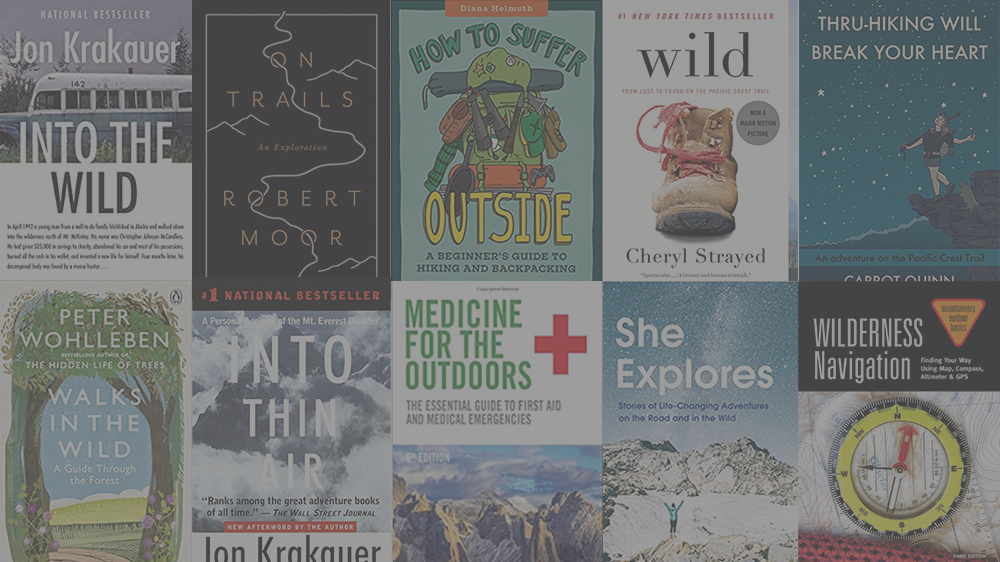 One of the most budget-friendly hiking gifts you can get your hands on—the best hiking books—are often some of the most enjoyable items a hiker can bring along with them on an adventure. From incredible based on true story hiking tales like Jon Krakauer's Into the Wild and Cheryl Strayed's Wild, all the way through to informative books like On Trails by Robert Moor, there are a ton of great gifts for hikers to be found in a classic, affordable paperback.
If your favorite hiker is anything like me, escaping from technology (like my iPhone) is an essential aspect of getting out onto the trail. And in situations like that, a good old paperback book is the ticket. The best part? This kind of hiking gift often runs in the $10-15 range and they ship fast on Amazon.
Best Gifts for Hikers with Dogs
Know someone who loves hiking with their dog?
Then these are my picks for all the best gifts for hikers with dogs—all with a focus on making the experience of hiking with dogs that much more comfortable, safe and fun.
Hikers with dogs know anything can happen in the great outdoors. That's why safety is always a priority.
And that's why the Adventure Dog Series Medical Kit makes the perfect gift for someone who loves enjoying hiking with their furry best friend.
Every dog parent would appreciate the concern you show for their sweet pup by gifting them with a doggy first aid kit. This can come in handy in many situations, including when a fox tail gets caught in their hair, when they scrape or scratch a paw, removing ticks, splinters and more.
For hikers with dogs, no hiking gear is complete without a proper doggy backpack for them to carry some of their favorite treats, a water bowl, toy and more.
A great example of these adorable packs is the Ruffwear Front Range Dog Day Pack. The Ruffwear day pack is a light capacity pack featuring four expandable storage compartments—the perfect gift for hikers with a dog. These compartments can easily hold a water bottle, keys, your dog's first aid kit and more. The pack is lightweight and comfy, ensuring the furry hiker isn't weighed down by the load.
Another essential piece of hiking gear for dog lovers is a foldable dog pad for them to lay down and relax on.
Giving your furry hiking companion a nice comfy place to rest is crucial for dog parents. That's where this dog pad comes in handy (and why it's on my list of thoughtful hiking gifts). Made from closed-cell foam cushioning and insulated with synthetic down, the dog pad offers fantastic comfort on hard, cold surfaces.
This doggy pad is also super easy to clean and has a waterproof, non-slip base, making it one of the most thoughtful gifts for hikers with dogs.
Hydration is crucial on the trail. It can make or break your experience—and the same goes for your dog!
That's why getting your favorite outdoor enthusiast a portable water bowl for their dog is an excellent hiking gift idea.
This portable water bowl features waterproof lining and a waterproof shell that make for the perfect balance between functionality and collapsibility. The result is a bowl that packs away easily in a pocket or backpack. An added advantage is the reflective trim that makes the bowl easy to see in the dark.
Best Nice Gifts for Hikers (Higher Spend Hiking Gift Ideas)
There are some friends (and loved ones) who deserve some of the best you can give. If that person is a hiker and you want to splurge on one of these special hiking gifts, here are some of the best gifts for hikers in that class:
Hiking boots are without a doubt one of the most essential pieces of gear for any hiker. Because of that, only the best (for your budget) can do. One of the best hiking boots on the market right now (for both men and women) are the Salomon X Ultra 4 Mid GTX.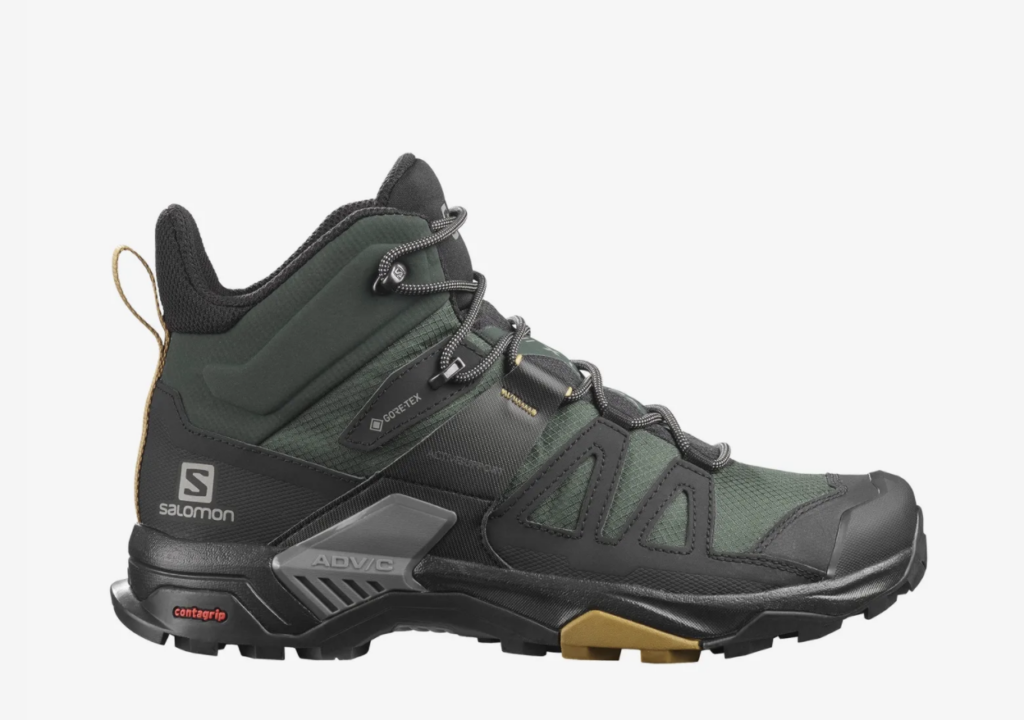 This is considered one of the best hiking boots on the market. A couple of reasons for that include its perfect balance of weight and durability. The shoe also offers exceptional performance, thanks to its excellent traction, impressive cushioning and foot support.
Smartwatch technology has advanced so much that the device has become more of an essential than just a luxury. That's especially if that smartwatch is the Garmin Instinct 2 Solar edition.
The Garmin Instinct 2 Solar is a military grade smartwatch that packs tons of useful features for hikers in its compact form factor. Some features your hiking buddy will find particularly useful include in this nice gift for hikers:
Long battery life that can be extended by solar charging
GPS, GLONASS and Galileo
Health monitoring
Water resistant (up to 100m)
This is one device you should definitely consider gifting a loved one who's passionate about hiking.
Another brilliant (and very nice) hiking gift idea if you plan on wowing your hiking friend is a GoPro camera. The GoPro HERO9 Black is the one they'll want, trust me.
GoPros have become synonymous with the adventure lifestyle scene. This is because they're an excellent device for taking high-quality photos in harsh conditions, including underwater. They're also very compact and easy to use, not to mention their rugged build—a great gift for hikers of all kinds. The GoPro Hero9 Black also has the capability of shooting 5K videos and 1080p live streaming.
The DJI Mini SE drone is one of the best gifts for hikers that love to capture aerial photos and video content while they're out on the trail. The perfect gift for that hiker with a blog & active social media channels
Aside from packing up into a small, light bag that'll fit easily inside of just about any backpack, features of this mini drone include:
3-Axis gimbal (for stability)
High quality camera (12MP stills and 2.7K video)
GPS capability
30-min flight time on a full charge
Weighs less than 0.55lbs (249 grams)
Companion DJI Fly App to edit videos on the go
Wind resistant
Now, let's talk about hiking gifts for backpackers and those hikers that spend a while out on the trail.
Best Backpacking Gifts for Hikers
Backpackers head out for long hikes where they often spend days—even weeks—on the trail. Because of that, most backpackers carry a travel pack containing a good amount of equipment it takes to survive (and thrive) in the outdoors.
So, what kinds of hiking gifts should you consider giving a backpacker?
If there's one thing backpackers look forward to, it's a good night's sleep. That's why the Therm-a-Rest NeoAir XLite sleeping pad is what a hiker's dreams are made of—one of the best gifts for hikers that backpack for days or weeks on end.
Let's face it, poor quality sleep ruins the day ahead. To help ensure your loved one gets the best possible experience on their hike, invest in them getting quality sleep. The Therm-a-Rest NeoAir XLite sleeping pad is the perfect choice as it's ultra-light, super comfortable, waterproof and very warm.
If you want to go the extra mile in ensuring a backpacker really gets some good shut-eye, consider getting them a sleeping bag. And because this sleeping bag is one of the best on the market, I rank this as one of the most useful gifts for hikers that camp overnight.
Heavy duty sleeping bags like the Nemo range are just what the (sleep) doctor ordered. Built with rugged material on the outside and filled with premium insulation, these make for a toasty bed out on the trail (even if you can't make the best time to visit Yosemite, you'll stay comfy). You also get a choice between men's or women's sleeping bags.
Bear spray is a necessity for hikers spending much time in bear territory. Especially for backpackers that roam in the great outdoors for days or weeks along the trail—thereby increasing the chances of a bear encounter.
While this may not be the most exciting gift for hikers on this list, it's a very useful one that could save a life. And your hiking buddy knows that all too well, so they'll definitely appreciate it.
No matter how well-planned a backpacking trip may be, you still can't predict the weather. That's why you must ensure that your valuables are protected at all times from the rain or water.
Enter the Sea to Summit Lightweight Dry Sack.
The dry sack is a versatile piece of equipment that can be used for many things. However, its forte lies in keeping your equipment dry. It's a must-have for every backpacker, especially those who hike near water—making it extremely useful amongst all the hiking gifts you're considering.
You can never have too much water when backpacking. Sometimes, however, your supply of water may run out. That's why you must always carry a water filtration system like the MSR Guardian Purifier.
While it may be pricey, this is a water filtration system you can trust to deliver the cleanest water from any source. Add to that its lightweight and compact build and it makes for the best gift you can give a backpacker.
The Best Gifts for Hikers in 2022: Take Your Pick
Gifting a hiker when you're not one yourself can be quite the daunting task. Hopefully this list of gift ideas for hikers will help make it easier for you—and if they're an avid reader, consider my list of the top hiking books too.
Still not sure about which hiking gifts to get?
Consider gifting them an REI gift card. This way, they get the chance to choose the hiking gifts they want for themselves 😊
Let me know in the comments below which hiking gift ideas you'll be going with for your favorite hiker!