You're here looking for the best time to visit Yosemite, so let's get right to it.
What's the Best Time to Visit Yosemite National Park?
As a California native that's visited during just about every time of the year, the best time to visit Yosemite National Park is during the months of March & April and again during the months of October & November. These two windows of time will give you the best combination of smaller crowds and pleasant weather (without the likelihood of much, if any snow at lower elevations).
Because the summer peak season (between May and October) attracts more than 75% of the park's annual visitors, you can get a much quieter, calmer and crowd-free experience outside of these months. Plus, Yosemite is now instituting an online reservation system during the peak season to help manage crowds. See details here:
Do you need a reservation to enter Yosemite National Park?

Yes, during some months of the year. As part of a new program to manage crowds during the 2022 summer peak season, a reservation will be required to enter Yosemite National Park from May 20, 2022 through September 30, 2022, for those driving into the park between 6:00am and 4:00pm. You'll need to book your $2.00 reservation online here on Recreation.gov in advance. Even if you're planning on just driving through the park and not stopping to hike, you'll still need a reservation if you're entering between the hours of 6:00am and 4:00pm.

If you'll be visiting Yosemite between May 20, 2022 and September 30, 2022, you can make your reservation to enter the park on Recreation.gov right here. The reservation fee is $2.00 and you'll still need to pay the $35.00 per-car park entrance fee on top of that. If you're an early bird like me, a clever way around the reservation system is to enter the park before 6:00am… just be sure to do your part in maintaining this beautiful park and make sure you pay the $35.00 per-car entrance fee on your way out.

While the National Parks Service is billing this as a temporary reservation system to "help manage congestion and provide a quality visitor experience while numerous key visitor attractions are closed for critical infrastructure repairs," I wouldn't be surprised to see a version of this policy stick around due to the popularity of Yosemite during the summer months.
While a single weekend isn't enough time to cover everything that Yosemite has to offer, it shouldn't deter you from making your way to the park for a quick trip. At about a 3 hour drive from both San Francisco and Sacramento, this park is surprisingly accessible—and since Yosemite is open throughout the year, you can visit whenever you want.
However, there are certainly best times to visit Yosemite during the year—whether you're concerned with crowds or adverse weather conditions. Of course, you'll also want to take into account what you want to do during your visit. In this guide, I'm covering all the information you need to pin down the best time for your Yosemite visit.
The Best Time to Visit Yosemite National Park in 2022
At the end of the day, choosing the right time to visit Yosemite during the year, depends pretty heavily on what you're hoping to do in the park (be sure you have the best hiking boots—and other gear & gift ideas for hikers—for the season you'll be visiting too). Let's take a look at all the most popular reasons people flock from around the world to this park—and I'll break down the best time of year to visit for each activity.
1. The Best Months to Visit Yosemite for Avoiding Crowds: November to April
Yosemite National Park is open throughout the year. However, the vast majority of visitors show up during the 5-month period from May to October, which means that from November to April, the park is largely crowd-free and wonderfully quiet.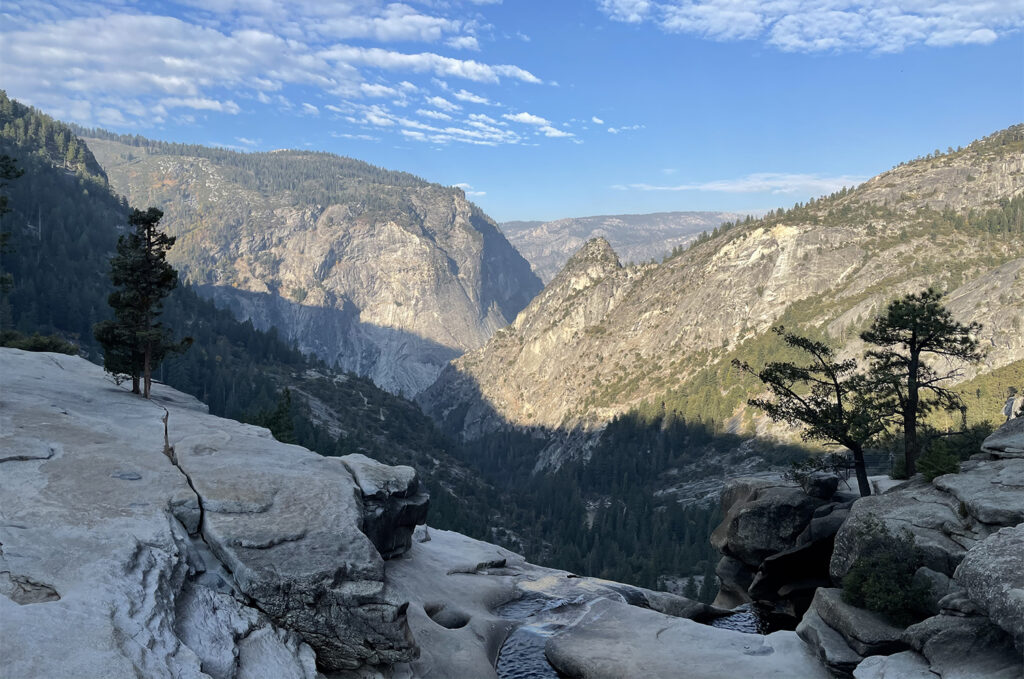 Not to mention, Yosemite is just as beautiful and magical during the winter months as it is in the summer—as long as you're prepared with the right gear to stay warm. Plus, if you decide to visit between November and April, you could set off on a tranquil winter hike and watch the Yosemite Falls in action (which starts only after a bit of snow or rain has fallen in higher elevations).
Keep in mind though, that while you can access both the Wawona areas and Yosemite Valley by car throughout the year, the Tioga and Glacier Point roads are usually shut down for the winter at some point during November (the exact shutdown time is determined by the weather).
If quiet, peace and serenity are your top priorities, I recommend visiting the park in January, which has historically been Yosemite's quietest month. Just be prepared to navigate a healthy amount of snow pack along the trails at higher elevations if you're embarking on a hike during the middle of winter.
2. The Best Months to Visit Yosemite for Camping: April to September
Camping is one of the most popular activities in Yosemite, although you might find it hard to believe, camping is possible all-year round in the park. Typically, the most popular campsites in Yosemite—Camp 4, Hodgdon Meadow and Yosemite Valley Upper Pines are all open twelve months out of the year.
Having said that, if you want to camp deeper into Yosemite (White Wolf, for instance) or if you don't want to go through the process of purchasing winter gear, you should plan your camping visit during the summer months.
The most popular seasonal campgrounds at Yosemite can open anywhere between late May and August. On the downside though, reservations for these campgrounds tend to fill up very quickly for the busy April to September period of time. You can check out all the camping options in Yosemite right here and make your decision. Be sure to look ahead at sunrise and sunset times in Yosemite too, that way you'll be prepared for taking pictures at the two most serene moments of your day.
3. The Best Time for Driving Through Yosemite on Tioga Road:

June to October
What makes Tioga road so unique is that it's the sole road traversing the entire length of Yosemite National Park. This means that the road is ideal for travelers who are short on time, but still want to see as much of the park as possible from the comfort of your car (and scenic turnouts).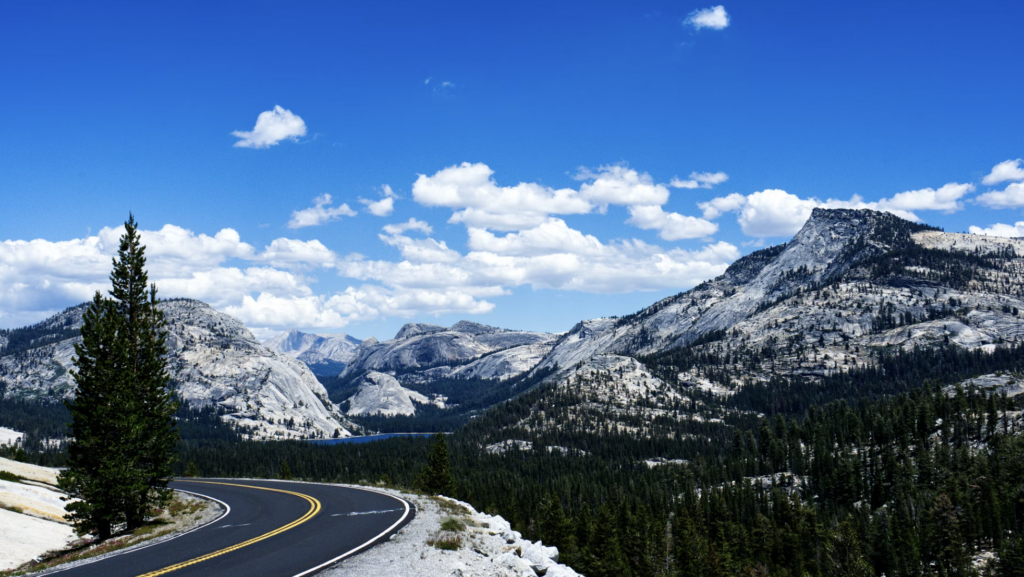 Your scenic drive will start with the Crane Flat area and end, some 45-50 miles later at Tioga Pass. In between, you'll be able to experience the breathtaking Tuolumne Meadows, the mesmerizing Tenaya and Siesta Lakes and the mammoth Lembert Dome.
The snowfall in the park means that Tioga road is closed for the winter months, and usually reopens in the last week of May or the first week of June, remaining open until October or November when snowfall requires closure. You can check current road conditions on the NPS website right here.
4. The Best Months to See the Wildflowers in Yosemite:

May to August
The park's elevation ranges from 13,000 feet on the east, to 2,000 feet on the western side. For this reason, you can spot wildflowers almost every month during the year—as long as you know the right time and places to go. The months of May to August give you the best opportunity to see the most wildflowers.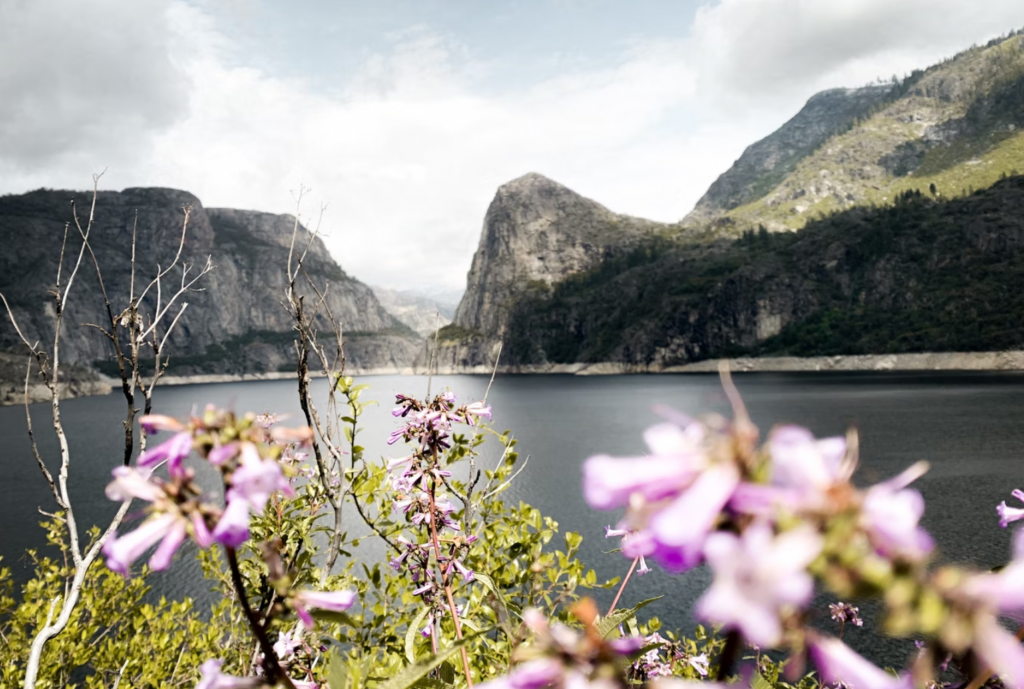 During the spring, you can turn to some of Yosemite's hiking trails in the lower elevation areas—Wapama Falls (Hetch Hetchy), Wawona Meadow Loop and Cook's Meadow Loop (Yosemite Valley)—to witness the start of the colorful spring come into full bloom.
Even the higher elevation areas will surprise you with bright, colorful patches peeping out from the white snow blankets. Along Sentinel Dome, Taft Points, and McGurk Meadow (all of which are situated along the road leading to the Glacier Point), the pink-and-red snow plant makes its adorable presence known.
During the summer, you'll find plenty of wildflowers in Tuolumne Meadows. The early summer months offer pinkish shooting stars, and you can find dog violets, fireweed and columbine during late summer. The park, however, is at its best during the middle of summer, lined with angelicas, mountain monkey-flowers, alpine laurels and other seasonal varieties.
5. The Best Months to Avoid Snow and Rain in Yosemite:

June to September
If you want to avoid snow or rain, it's best to visit Yosemite somewhere between June and September.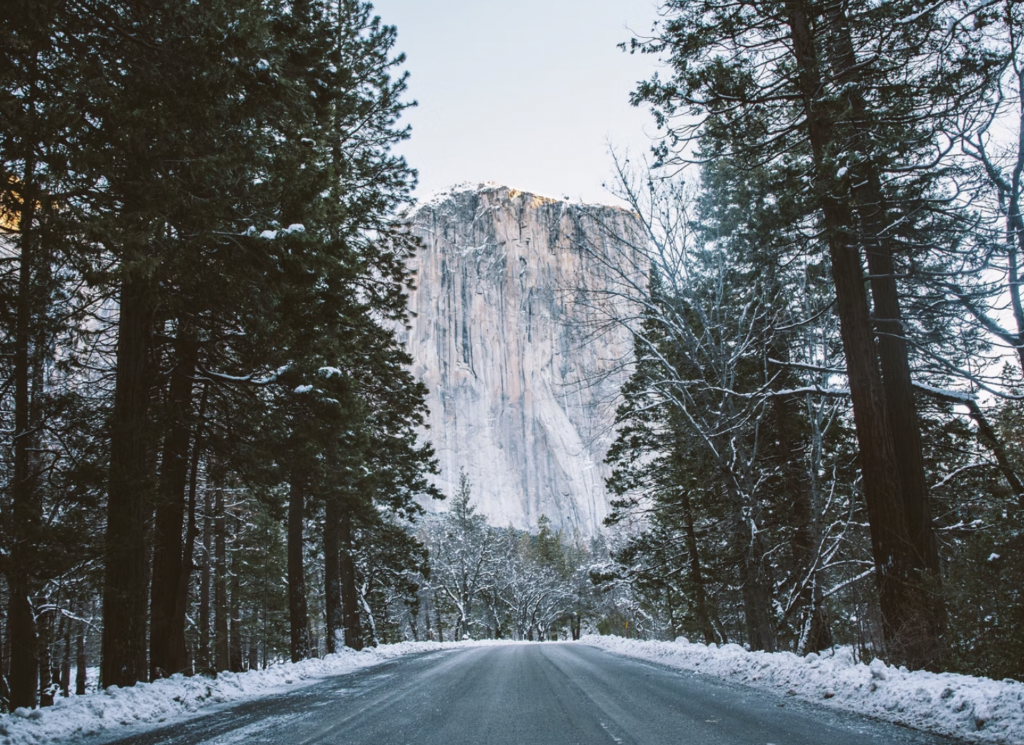 Yosemite's elevation changes a lot throughout the park. That, in addition to the fact that the park covers close to 1200 miles, means that the weather can vary quite a bit depending upon the specific location you choose to spend your day.
Having said that, 95% of Yosemite's precipitation occurs between the October to May cooler period, with more than 75% happening between the months of November and March (much of that in the form of snow during the winter months).
Average Maximum and Minimum Monthly Temperatures in Yosemite National Park (°F):
The average temperature you should expect to encounter in Yosemite during your visit can vary quite a lot on a daily basis as weather conditions can be unpredictable at higher elevations in the Sierra Nevada mountain range. However, here's a snapshot of historical averages for the maximum and minimum temperatures recorded in the park, month-by-month.
January Temperatures in Yosemite (January Weather in Yosemite):
| | |
| --- | --- |
| Maximum: | 45.1 °F |
| Minumum: | 26.4 °F |
Yosemite weather in January brings the second the coldest temperatures and the most snow at the valley floor (about 7 inches on average).
February Temperatures in Yosemite (February Weather in Yosemite):
| | |
| --- | --- |
| Maximum: | 46 °F |
| Minumum: | 26.9 °F |
Yosemite weather in February still packs chilly average temperatures and about 6.5 inches of snow at the valley floor on average.
March Temperatures in Yosemite (March Weather in Yosemite):
| | |
| --- | --- |
| Maximum: | 49.8 °F |
| Minumum: | 28.4 °F |
Yosemite weather in March starts to thaw out a bit, but you can still expect an average of 5.6 inches os snowfall.
April Temperatures in Yosemite (April Weather in Yosemite):
| | |
| --- | --- |
| Maximum: | 54.8 °F |
| Minumum: | 31.2 °F |
Yosemite weather in April finally welcomes warmer spring temperatures with a drop in average snowfall (to 3.2 inches).
May Temperatures in Yosemite (May Weather in Yosemite):
| | |
| --- | --- |
| Maximum: | 64.0 °F |
| Minumum: | 37.7 °F |
Yosemite weather in May is perfect if you ask me. Expect very comfortable temperatures and little to no snow (about 1.9 inches on average).
June Temperatures in Yosemite (June Weather in Yosemite):
| | |
| --- | --- |
| Maximum: | 72.3 °F |
| Minumum: | 44.5 °F |
While you'll contend with crowds, Yosemite weather in June is the sweet spot. Warm average temperatures and only .5 inches of snow.
July Temperatures in Yosemite (July Weather in Yosemite):
| | |
| --- | --- |
| Maximum: | 79.7 °F |
| Minumum: | 50.1 °F |
Yosemite weather in July brings the hottest temperatures of the year and almost the least snow (about .3 inches).
August Temperatures in Yosemite (August Weather in Yosemite):
| | |
| --- | --- |
| Maximum: | 79.4 °F |
| Minumum: | 49.3 °F |
Yosemite weather in August is about the same as July, very warm temperatures and the least snow (about .2 inches on average).
September Temperatures in Yosemite (September Weather in Yosemite):
| | |
| --- | --- |
| Maximum: | 73.7 °F |
| Minumum: | 44.8 °F |
Yosemite weather in September slowly begins to cool down again, but snow is uncommon (with about .4 inches on average). That makes September's weather some of the best of the year.
October Temperatures in Yosemite (October Weather in Yosemite):
| | |
| --- | --- |
| Maximum: | 63.6 °F |
| Minumum: | 37.1 °F |
Yosemite weather in October is in my perfect sweet spot again. Cooler, comfortable temperatures and very little snow (about 1.6 inches on average).
November Temperatures in Yosemite (November Weather in Yosemite):
| | |
| --- | --- |
| Maximum: | 51.8 °F |
| Minumum: | 30.0 °F |
Yosemite weather in November can be a little unpredictable, with much cooler temperatures and more snow (about 4.1 inches on average).
December Temperatures in Yosemite (December Weather in Yosemite):
| | |
| --- | --- |
| Maximum: | 44.9 °F |
| Minumum: | 25.6 °F |
Yosemite weather in December turns into full winter mode again. Expect cold temperatures and a good amount of snow at the valley floor (about 5.6 inches on average).
Armed with the info you need to make a decision about when to visit Yosemite based on the weather and temperatures, let's talk about what you should do during your next visit to the park.
6 of My Favorite Things to Do in Yosemite National Park
With its breathtaking waterfalls, hundreds of hiking trails, massive sequoia groves and granite monoliths, Yosemite National Park has the kind of awe-inspiring beauty that's hard to beat.
Spanning a whopping 747,956 acres, this park could take more than a lifetime to fully explore. To top it all off, this protected space is home to a population of several hundred black bears and over 400 other species of wildlife, including mammals, birds, fish and reptiles.
Witness the Waterfalls: When the melting mountain snow brings with it ice-cold waters speeding downstream towards the Yosemite Valley, breathtaking waterfalls come to life. At the peak of the seasonal flow, which usually occurs during the months of April to June, the thundering of the waterfalls can be heard clearly across the entire Yosemite Valley. Of all the waterfall trails, the most famous has to be the Mist Trail, which leads to Nevada and Vernal Falls.
Gape at the Giant Sequoias: Go on a refreshing nature walk amongst the mind-blowing 500+ mature giant sequoias, some of which are in the 3,000 year old range and reach up to 300 feet tall. The Mariposa Grove boardwalks are the most common way to walk through the tall trees. However, if you want to steer clear of the crowds, you can always turn to the two smaller groves instead.
Check Out the Wildlife: Yosemite is home to more than 400 different vertebrate species of animals, which means that the park is a wildlife enthusiast's dream. Make sure that any food or other tasty-smelling items are stored properly in either a bear canister or designated park area, as the black bears aren't afraid to wander through a campsite for a good meal.
Go Camping: Nothing beats the charm of sleeping under the starlit Yosemite sky. Camping is a particularly fun option if you're looking to spend some quiet, private time either out in the wilderness by yourself, or at a cozy campsite with the family. What's better than relaxing by a campfire with one of your favorite hiking books, an adult beverage and watching the stars drift by?
Ice Skate at the Curry Village: During the winter months when the entire park is blanketed in a sheet of snow, the Yosemite Valley transforms into a winter wonderland. Whether you want to enjoy ice skating under Yosemite's Half Dome or eat s'mores around a fire, the winter season promises plenty of adventure and memories.
Exploring the Yosemite Trails: Whether you're looking for a backcountry adventure on horseback or by foot—or you just want to step out of your car and do some exploring, there's a Yosemite trail for everyone.
If you're looking for some guidance on the right trail to tackles on your next visit, check out my list of all the best Yosemite hikes to add to your list today.
When Should You Not Visit Yosemite National Park?
July and August are by far the busiest months in Yosemite, with full campsites & hotels, heavily trafficked trails, impacted facilities and stressed tourists. I recommend avoiding these two peak summer months at all costs if possible.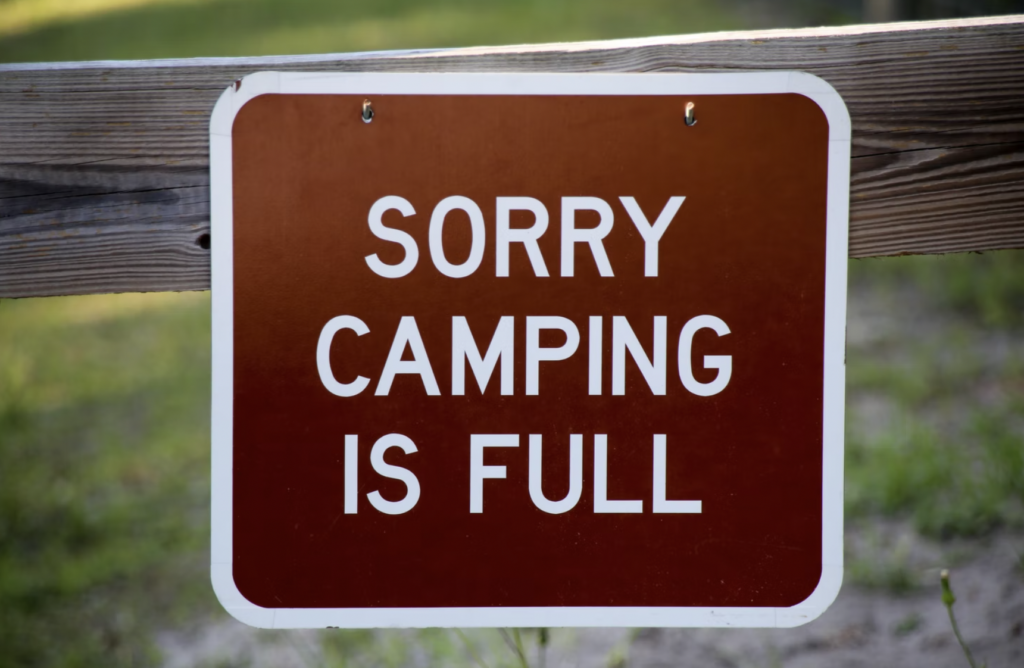 If your plan is to have a nice and quiet time, you should consider avoiding the park during July and August—the number of visitors during these two months is 5 to 6 times higher than the number of visitors during the winter months (minus the holiday period, which sees a sharp spike in visitors). The months of June and September are the second busiest months for Yosemite.
If you want to make the most of your Yosemite experience—and don't want to be hindered by full campgrounds, icy trails or weather-related road closures, you should plan your visit for between June and September. Not only is everything (generally) accessible and open during these months, but the temperature is also a few degrees warmer and very pleasant. Just be prepared for a bit heavier crowds as you make your way around the park.
Final Thoughts: Planning a Trip for Your Best Time to Visit Yosemite National Park
Nestled in California's Sierra Nevada mountains, the iconic Yosemite National Park truly has something for everyone, which is why it's one of the most popular outdoor destinations in the US—for both tourists and residents alike.
And while you can certainly visit this breathtaking park at any time throughout the year, the ideal time to visit Yosemite will depend mostly upon what you want to do while you're in the park.
For my purposes (hiking), the best time to visit Yosemite is March & April and October & November.
I hope this guide will help narrow down your objectives, and as a result, choose the best time for you to visit Yosemite this year, too. Hope to see you on the trail!